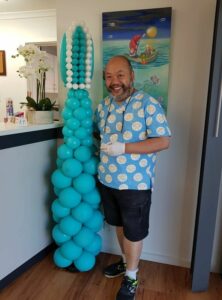 Stewart completed his Bachelor of Dental Science at the Royal Dental Hospital of Melbourne in 1990, after first completing two years of a Science degree. After completing his studies Stewart worked for almost 3 years in Kerang then moved on to locuming in Kyabram for 9 months and during this time he purchased the Yarra Junction Dental surgery in December of 1993 where he has been ever since.
Stewart covers all facets of general dentistry including Restorative, Extractions/Surgical, Prosthetic, Crown & Bridge and Endodontics.
Outside of work Stewart loves spending time with his wife and 4 children and new addition to the family his dog Cerberus.
Stewarts Hobbies include chess, table tennis and making models.